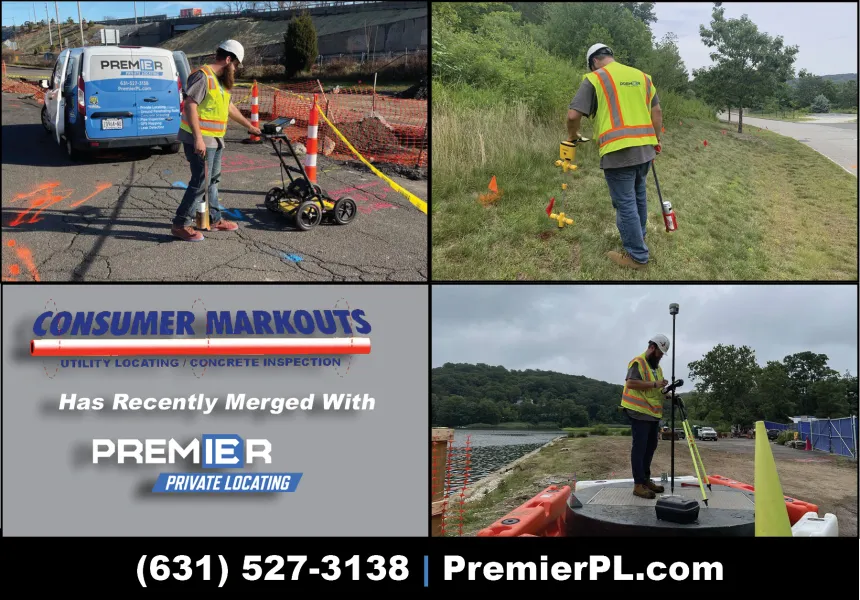 Consumer Markouts Is Now Part of Premier Private Locating

Consumer Markouts, Inc. has been acquired by Premier Infrastructure & Energy, LLC, and is now part of Premier's Private Locate Division.
Todd Cogan from Consumer Markouts will continue to deliver the same quality, top-notch customer service, and dedication to accuracy and safety that our clients have come to expect, but with enhanced tools, resources, and capabilities that will allow us to serve you better.
Premier Private Locating specializes in:
Ground Penetrating Radar

Private Utility Locating

Concrete Scanning

Pipe Inspection

GPS Mapping

Vacuum Excavating
Please Add Us To Your Contacts:
Premier Infrastructure & Energy, LLC was formed in 2019 by Marc Makely, formerly of Premier Utility Services. Marc founded Premier Utility Services in 2003, as a subsidiary of Hawkeye, where he served as President; facilitating the growth of more than 1,200 new hires and the expansion of services into 24 states. Marc's ability to recognize that emerging technologies could maximize efficiency and deliver significant cost-cutting in the utility space became the inspiration for his future endeavors. Marc along with the members of his talented group brings decades of valuable utility, industry, and locating experience to the Premier Private Locating team.
Although Consumer Markouts is now under a different roof, our mission remains the same - To protect your investments and carefully guard the safety of every workforce on every job site.